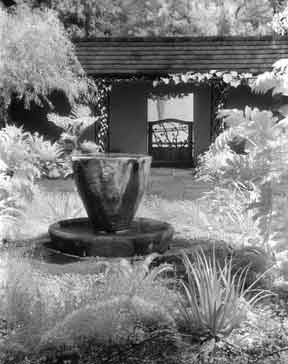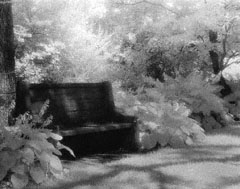 Fine Art prints are an important part of Diane's work. She creates images utilizing many different photographic processes showing a time and place often missed in our busy lives.
Diane's images include graphic black and white photographs of landscapes, architecture, and still life.
Diane creates a feeling of memories of another time and place by photographing with Black and White infrared film. Selected images are hand-painted using transparent oil and pencils to create a mood or feeling not easily created with standard black and white or color photographic materials.
Collections of Diane's fine art photographs:
"The Garden Essence" is a collection of Black and white infrared images of garden elements including buildings, benches, gazebos, and other garden scenes. All images are hand printed by Diane on photographic paper. Selected images are hand-colored to bring the garden mood to life. "The Blair Academy Series" includes images of well-known buildings of Blair Academy and Blairstown's waterfalls.
Other subjects are available in Black and White and Black and White Infrared prints.
Selected color images of Garden Flowers and Scenic Landscapes are also printed for Art Prints.
A new Collection of "Landscapes, Sunsets, and Sunrises" includes printing with new processes including metallic papers and photographs on metal. Metal prints use a process called dye sublimation in which dyes are infused into the surface of a sheet of aluminum. The photographs have high contrast and show great detail with deep blacks and bright whites. The image stability of these prints is 2 to 4 times the image stability of traditional silver-based photo papers.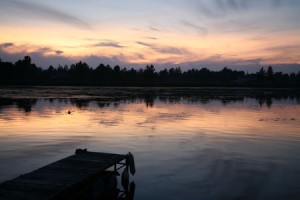 Blind Bay Sunset on St. Lawrence River
It was a calm evening on Blind Bay and the soft colors of the sunset were inspiring!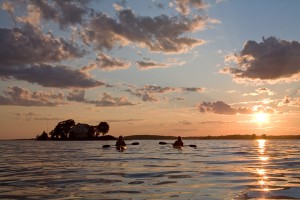 Kayak Sunset on the St. Lawrence River
An evening Kayak paddle with friends turned into a beautiful photo!
Fine Art photographs can be ordered on Canvas or Metal Prints as well as traditional prints.  Contact me at diane@photodesignsbydiane.com
Diane is a founding member of Gallery 23 Fine Arts in Blairstown, NJ where she sells her work with 30 other artists of all disciplines. You can see her work at the web site www.gallery23.net
Other Galleries where her work has shown includes, The Ultimate Image Gallery, Four Sisters Winery, Blair Academy Art Gallery, and Abbington Art Gallery.